Rejuvenate Your Inner Self
Come & Visit Anandam Dham
Spirituality Redefined
Awakening the Soul at Shri Anandam Dham
Anandam Dham is a peaceful place that helps people explore and grow spiritually. It offers a calm and tranquil environment for self-discovery and inner peace. Through teachings and practices, it guides individuals on a journey of self-realization and harmony.
1000000+ And Counting
Devoted bhakts are continuously fed with prasadam as a symbol of divine grace
105000+ And Counting
Charulata Gau Sewa: Over 100k cows served and counting
5000000+ And Counting
For over a decade, hundreds of diyas have been lit daily without fail
donate & help
Help Save Spiritual Heritage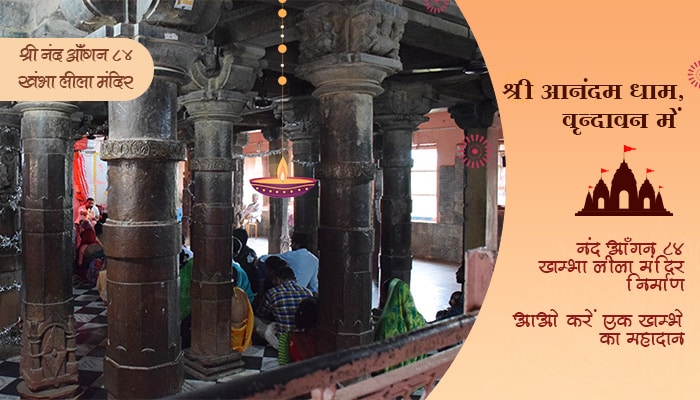 84 Khambha Leela Temple Sahyog
Let's unite and donate for 84 Khambha Temple to be built on the premise of Anandam Dham.
Cow Care, Protection, and Welfare Donation
With your contribution, their lives are blessed. Support cow service, join the cause today.
Braj Katora Co-operation Prasad Distribution
Support Braj Katora's noble mission, Donate to Bhandara, serving with compassion.
Braj Annapurnalaya Donation
Make a difference by supporting initiatives like feeding the poor and hungry at Braj Annapurnalaya.
Nidhivan Deep Dan Service
Brighten Ashram through the act of Deepdaan or oil charity at Nidhivan Deep Service.
Monthly Service – According to Faith
Make a difference by generously contributing to causes that align with your beliefs.
Upcoming Celebrations at Ashram
Event Schedule
Join us for the grand celebration of Guru Purnima on the 3rd of July at Aanandam Dham! A day filled with divine blessings and spiritual festivities awaits. As we honor our revered Guruji, we will be providing meals to the hungry, spreading love and kindness. Immerse yourself in soulful bhajan kirtan, elevating your spirits through melodious devotional songs. Seek the divine grace as Guruji bestows darshan upon the devoted bhakts. Let's come together in gratitude and reverence on this auspicious occasion. Don't miss this opportunity to experience enlightenment and joy. See you at Aanandam Dham!
temple maintenance
Donate to Support Hare Krishna Temples and Monasteries
Lorem ipsum dolor sit amet, consectetur adipiscing
[give_form id="17039" display_style="modal" show_title="false" show_goal="false" show_content="none"]